Floral Design with Cara: Cut Flowers for Your Kitchen
By Cara Ewald on October 03, 2014 from Floral Design with Cara
According to research, women who work full-time spend an average of 42 minutes per day in the kitchen preparing meals and cleaning up.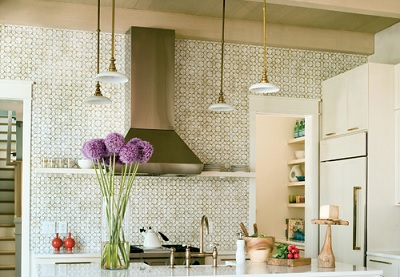 Why not make that time, happy time? Fresh cut flower arrangements bring the outdoors inside, and they are sure to brighten your day. Flowers will inspire your kitchen's atmosphere, whether it is modern, functional, stylish, or elegant. Look around, do you decorate with old canisters, water pitchers, or other containers? Whether your style is classic or urban chic, you have the ability to tailor your kitchen's cut flower arrangements to fit your personal style with these few simple steps.
Simple tips:
• Choose every day containers that match your personal style, such as, tea tins, jelly jars, salt and pepper shakers, or champagne flutes.
• For a burst of cheer, select bold color combinations.
• For the "wow" factor choose lots of one type of flower.
• Choose citrus colored flowers for a sunny feeling. Bud vases with a few stems of yellow and orange blooms are always a hit.
• Play off of accent colors in your kitchen.
• Inspire neatness by placing flowers where clutter gathers. This will deter future messes.
• Use three bud vases of different, sizes, shapes, and colors for a fun and dramatic effect.
Be classic:
There are no rules to arranging kitchen flowers, but classic looks can be a starting point for effortless enjoyment.
• With flowers, green is neutral and white is color.
• For a bold look, choose just two colors at a time.
• For modern beauty, choose different blooms in the same color family. This will offer a simple, clean look.
• Order a wrap of various flowers from your trusted florist. When you get them home have a variety of small vases ready and place the flowers randomly into those containers and scatter throughout your house. You will be amazed at how many arrangements you can get out of a wrap.
Be bold and dramatic:
If you are an old pro at the classic look, you may want to try these more advanced approaches to kitchen floral arranging.
• Think in terms of 'scale' and 'texture' by mixing larger headed blooms with smaller ones. Examples of large blooms are hydrangea, sunflowers, peonies, and dahlias. Smaller blooms include sweet pea, delphinium, lisianthus, and bells of Ireland.
• One type of flower, such as roses. This "mono-botanical" style gives a simple, elegant look. For example, tulips, gerbera daisies or hydrangea, in a coffee tin will scream style.
• Mix everyday flowers like daisies and carnations with peonies and ranunculus for a dramatic effect.
Place the flowers on your table or countertop. For kitchen tables, keep the stems cut to below eye level to promote conversation among family members.
The most important thing is to enjoy them every day. Have fun, design, and smile.