Floral Design with Cara: Sympathy Flower Etiquette
By Cara Ewald on October 17, 2014 from Floral Design with Cara
Sympathy flowers symbolize thoughtfulness, compassion, and warmth. In times of sadness and sorrow, flowers give life and greater hope for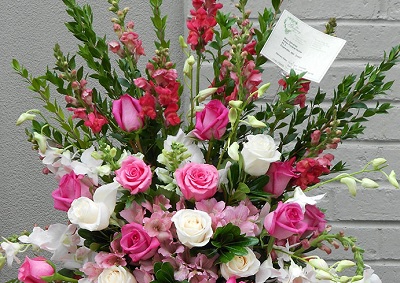 the return of joy to the bereaved's life.
There are many types of sympathy arrangements, and selecting the right one can be a little bit confusing. It is a difficult occasion, and more often than not, many have an even harder time making decisions while in the grieving process. So, I put together a few tips to help you through the tough task.
Traditional Funeral Flower Arrangements
Wreaths - Circular floral arrangements that represent eternal life.
Fresh Cut Floral arrangements - Usually front-facing, in any container or basket.
Standing Sprays - One-sided standing arrangements usually on a wire easel.
Casket Sprays - Purchased by direct family members to sit on top the casket.
Inside pieces - Small floral sprays placed inside the casket, normally purchased by close family members.
Fruit or Food Baskets - Normally sent to the home of the bereaved.
Potted Plants or Dish Gardens - Send plants if you want the family to be able to take a plant home and enjoy for years to come.
Although flowers represent forward movement, growth and new life, some cultures, such as Jewish and Hindu, frown on sympathy flowers. Instead, you may consider a fruit or food basket sent to the home of the bereaved during the mourning period. Some ask if it is ok to send flowers when a family specifically asks for donations in lieu of flowers, and my answer is that it is absolutely ok to send flowers in addition to making the donation. When sending flowers, make sure you specify both your first and last names for the card. If from a group, your card should include the correct spellings first and last names of the individuals who gave money towards the arrangement. Some card messages include, "With Deepest Sympathy", "Our thoughts and prayers are with you", or "In loving memory". Funeral flowers are not mandatory, but sending an arrangement will help you express your love for the deceased and concern for their family members left behind. You should order the flowers well enough in advance to make sure your florist has ample time to get them to the funeral home before the first family viewing. Normally, a private family viewing opens up an hour before the public viewing. If you learn of the death late or after the funeral, it is ok to ask for flowers or a plant to be sent to the home of the grieving family. Potted plants are an alternate choice to fresh arrangements, further signifying life and growth. Most importantly, you must remember that many are at a loss for words when one passes away, and flower giving serves as a means of communicating deepest condolences. If you are still having trouble finding the right arrangement, speak to your trusted florist for guidance.