Wheels Up: From Airport Gas Pumping to Space Shuttle, a Rocket Scientist Started Here
By Charles Koukoulis on February 03, 2013 from Wheels Up
I would like to thank all the readers for their kind comments and overwhelming response to my blog. You have made it an instant success and I am most grateful. I thought I would write the next two or three installments on some of the things I have experienced in my life and times here at the airport. I have had the opportunity to meet a lot of fascinating people from a wide spectrum of backgrounds. They range from the small aircraft owner just passing through to his or her destination to celebrities and ranking government officials. There have also been those who learned to fly in our flight school in years past who have gone on to achieve great things in their careers flying for major airlines and corporations. Likewise, there have been those who have worked for our family businesses that went on and rose to great heights as well.
I guess a good place to start is at the beginning. My father came from Morgantown to Bridgeport in 1951 at the invitation of the Harrison County Commission and founded AeroMech, Inc. The airport was in the original configuration that opened in 1935. The main hangar was a beautiful cut stone structure with casement windows and heavy steel doors and an area of 10,000 square feet. The AeroMech hangar was considerably smaller and was the home of his company until the airport was reconfigured during the early 1960's. I remember fondly that there were a bunch of wrecked airplanes behind the hangar including an old Cessna AT-17 Bobcat. It was known as the 'Bamboo Bomber' and it soon became my own personal airplane in my own airplane playground. I would chase the bumble bees out of the wreck and proceed to fly missions around the world ... imagination ... the original Xbox and Play Station.
One of dad's first employees was a young man named Chester L. Whitehair. I started writing this blog piece and thought I should get my facts right. I sent Chet an email with links to the blog and a request for some bullet points of his early days that lead him on the pathway of a remarkable career. A couple days passed with no response and since I had not heard from him in about a year I was concerned. So, I called him. We had great conversation that took me right back to my childhood growing up at the airport. He told me how he got his start and brought up names of the early aviators from the area that helped forge aviation locally, statewide and beyond. I hadn't heard some of those names in years. We reminisced, had some laughs and agreed not to let so much time pass again until we communicate. So blog on!
Chet Whitehair and another teenage friend of his, Okey Kimberling, from Clarksburg were working a summer job washing cars at Ed Dieson's Garage in Clarksburg. Across the street was Chuck Henry's Clarksburg Photoengraving Company. Chuck owned an airplane and when he saw the boys washing cars hired them to clean and polish his airplane. Mr. Henry took them to the airport and gave them airplane rides, then they would do their job. When they needed more cleaning supplies they were told to see a man at the airport named Bus Cummings. One day when looking for Bus, they came to my father's hangar where they found his partner, Steve Jevas, working on an airplane. They thought it might have been Cummings and asked if he was. Steve pointed Bus out where he was standing over in the adjacent main hangar. But before they parted Steve asked them if they wanted a job pumping gas and doing odd jobs for AeroMech. Chet decided that was for him. He would work weekends and summers while finishing high school. Chet had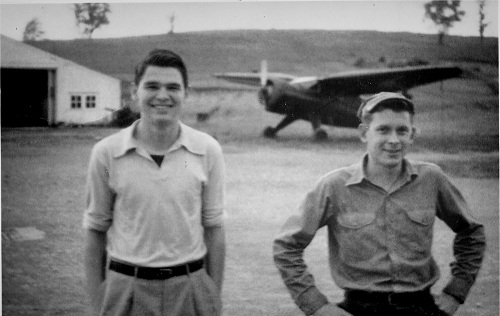 become fascinated with airplanes and aviation. He learned to fly in the same airplane that I would take my first ride in at five weeks of age. As we were talking on the phone he was telling me about the things he did and the jobs he performed at AeroMech, it sounded just like how I got my start. He worked there from the inception of the company in 1951 through 1954 when he left for college.
Chet went on to WVU to continue his education and graduated with a Bachelor of Science Degree in Aeronautical Engineering. He continued pursuing his career in the aerospace industry which was still very much in its infancy at that time. He joined The Aerospace Corporation as a Member of the Technical Staff in the Vehicle Design Section on 4 March 1963. They completed 17 major space and missile design studies. Chet was transferred to the Titan III Directorate in 1965 and was responsible for payload fairing development. Later, he was appointed Manager of Engine Mechanical Systems in 1966 and was also responsible for liquid rocket engine structures, as well as payload fairing development including the Universal Payload Fairing.
In 1969, Chet was appointed Manager of Core Mechanical Systems with expanded responsibilities to include all Titan III vehicle structures and mechanical hardware, and appointed Associate Director of the Titan III Mechanical Systems Office in 1973.
In 1974, he transferred to the Space Transportation Directorate as Associate Director of the Upper Stage Office and subsequently was promoted to Director. Chet was later appointed Principal Director, Inertial Upper Stage (IUS) in 1978 and was responsible for the conceptual design and development of this upper stage for launch with both the Titan 34D and Space Shuttle launch vehicles. He led the successful flight of the first IUS in 1982 on Titan 34D and led the Team to recover from the Space Shuttle launched second IUS flight that experienced an on-orbit anomaly in 1983 to a successful flight from the Space Shuttle in 1985.
In April 1985, Chet was appointed Principal Director of the Advanced Launch Systems Directorate, Space Launch Vehicle Operations and served in this position until appointed General Manager, Architecture Planning and Technology Division in February 1986. Then in 1989, he was appointed Vice President of Space Launch Operations. Chet's scope of responsibilities encompassed all U.S. Air Force Space Launch Systems (Atlas II/IIAS, Delta II, Titan II//III/IV, Pegasus, Taurus, and the Inertial Upper Stage), large regional offices at the Eastern and Western Ranges and the Space Test and Experiments Program, Albuquerque, NM. His responsibilities also included the Air Force's Evolved Expendable Launch Vehicle program. He routinely committed Aerospace (75 launches) to the Air Force, National Reconnaissance Office, Ballistic Missile Development Office, National Aeronautics and Space Administration, and National Oceanic and Atmospheric Administration customers certifying that proceeding to launch was an acceptable risk. The total investment at risk in each of these launches ranged from about $50 million to values in excess of $3.5 billion. Success rate approached 98 percent with only two losses during tenure as Vice President.
Chet spent 35 years with The Aerospace Corporation and retired in 1998. During his stellar (no pun intended) career at Aerospace, he authored and co-authored 20 technical publications and papers on current and future space operations, launch vehicles, risk management, military and commercial operations and a host of related topics. After his retirement he stayed very active in the business as a Senior Technical and Management Consultant to the United States Air Force and The Aerospace Corporation Independent Program Assessment Team for GPS Block IIIA Satellites, OCX Ground Stations and User Equipment. This also led him to working closely with NASA, Air Force and Navy, Lockheed Martin, Boeing and others.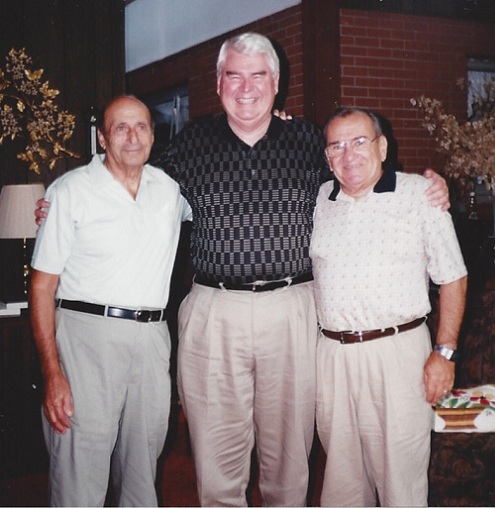 On 12 August 1998 at 7:30:01 Eastern Daylight Time, Titan IVA-20 lifted off from Space Launch Complex 41, Cape Canaveral Air Station. The booster was a Titan IVA rocket equipped with a Centaur Upper Stage. The vehicle carried a classified National Reconnaissance Office payload. Approximately 40 seconds after liftoff, the rocket pitched down and yawed right of its planned trajectory. When the course of the rocket deviated to an angle of attack approximately 11 to 13 degrees from its planned path, aerodynamic stresses on the vehicle exceeded its structural design. At this point, the northern-most Solid Rocket Motor (SRM #1) separated from the core booster, initiating the Inadvertent Separation Destruct System. At 45.529 seconds, approximately 3 seconds after the automatic destruct sequence, Mission Flight Control Officers sent command destruct signals to the vehicle. The Titan IVA had attained an altitude of 17,047 feet, a downrange distance of 4,422 feet, and was traveling at a velocity of 1,007 feet/second. The accident resulted in loss of the classified satellite and the launch vehicle. There were no injuries or damage to property on the ground as a result of the mishap. (source document: Titan IVA-20 Accident Investigation Board Summary)
Chet was a Technical Advisor to the Accident Investigation Board which was assigned to investigate that failed launch which led to the destruction of the vehicle. You can read the
Summary Findings
of the Board from this link. Also, you can see the
launch video here
.
In the year 2000, Chet was inducted into the West Virginia University Academy of Distinguished Alumni of Aeronautical Engineers. It was around that time that we reconnected with him since the early years. He had made his home in Long Beach, Ca. and spent a fair amount of time here visiting remaining family members and friends. During that time we had the opportunity to spend quite a bit of time together getting reacquainted. I was active in the Northern West Virginia Pilot Association at the time and had Chet as our guest speaker at one of the annual banquets. It was a most interesting presentation ... because it is not that often one gets the opportunity to be around a REAL rocket scientist! His program was full of videos of launches and some that had gone bad during testing. I remember him commenting that his bloopers usually ended up in some pretty big explosions. Chet was also the Secretary of our West Virginia Aviation Museum Foundation, which was founded in 2001. As I mentioned in a previous writing that organization has been dormant since our last meeting on September 10, 2001.
So that is a brief background of a fascinating career and a great man. Like so many others it was inspired by that first airplane ride that led to an entry level job pumping gas at the airport, gaining some experience working on airplanes, learning how to fly and on to pursuing a dream.
I hope you enjoyed the read. As always, I invite your comments and suggestions. Until the next time, Wheels UP!
Editor's Note: Top photo shows the Pursglove Coal Company D-18 Twin Beech at Benedum Airport 1951-1954. Pictured, from left, are Chet Whitehair of AeroMech, Inc., Berry Whitehair (Father) and sisters Dixie and Jackie. Middle photo shows Whitehair with
Jack Pell at Benedum Airport between1951-1954, Both were mployed at AeroMech, Inc. Bottom photo shows the original AeroMech Team from 1951. This photo, taken in 2001, shows, from left, Steve Jevas, Chet Whitehair - first employee as lineboy- and Angelo Koukoulis.