Healthy Kids First: 3 Ways to Get Your Kids Drinking Coconut Water
By Mandy Curry on July 26, 2014 from Healthy Kids First
I'm sure you've heard the craze about Coconut Water. It's nearly everywhere we turn- grocery stores, gas stations, etc. Often referred to as "Nature's Gatorade" or "Nature's Sports Drink," Coconut water is one of the fastest growing beverages in the U.S.
While coconut water has long been known for its health benefits, it has only hit the U.S. by storm in the last 5-6 years.
Just how big is this market?
In 2007, Zico, one of the largest coconut water brands recorded sales of only $100,000. In 2013, their sales reached
$87 million
.
Coconut water has numerous benefits, but the biggest benefit is its ability to rehydrate the body with electrolytes. Coconut water has five electrolytes that our bodies need: Potassium, Sodium, Magnesium, Phosphorus, and Calcium. Plain coconut water is also lower in calories than many sports drinks, and doesn't contain high fructose corn syrup or artificial flavors that many sports drinks do.
It sounds really great, but have you ever tried to drink it?
I have had quite the struggle getting my kids on board with coconut water. The subtle nut flavor has been a bit tough to overcome.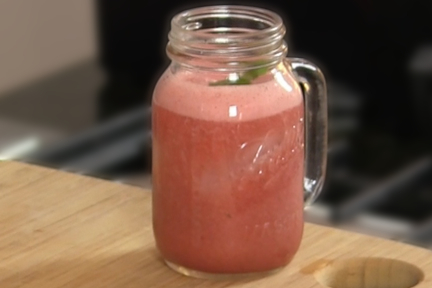 To my surprise, coconut water is actually a great base for smoothies and juices. With that in mind, I have found one way that I can get my kids (and those in our neighborhood) drinking coconut water…and loving it!
This simple recipe is for Watermelon Slushies with Coconut Water. Watermelon is a great companion to this drink. Watermelon is 90% water, which in and of itself, is a great hydrator in the summer. The final twist to our drink was mint leaves for a refreshing taste.
Pulling off Watermelon Slushies is really easy and only requires a few healthy ingredients:
2 cups watermelon
1 cup Coconut Water
5-10 fresh Mint Leaves
Add all ingredients into a blender for 1 minute and then serve.
The best thing about this recipe is that you can present it as a hydrating drink over ice, as a popsicle, or as a slushie. One drink. Three ways to serve it. If you want to see the three ways that I have been preparing Watermelon Slushies, here's my
latest YouTube video
.
As the summer heat turns up, this is a great time to experiment with healthier options to keep your kids hydrated. Enjoy!