Healthy Kids First: "Nature's Candy"
By Mandy Curry on February 17, 2014 from Healthy Kids First
I am always looking for quick and easy snacks for the kids and nothing beats a granola bar. Lately, I can't get enough of the food known as "Nature's Candy." Medjool Dates have become a staple in our home for quick and easy snacks. Dates are a sweet fruit from the date palm tree and a quick sweetener for baking.
While many variations of dates exist, I recommend using "Medjool." They can be found at most grocery stores (usually in a clear container in the produce section).
I haven't always used dates. In fact, it was the LaraBar that actually led me to this dried fruit. It never fails that we resort to a pre-packaged snack at some point during the week. It just happens, and when it does, our snack of choice is always the Lara Bar. We love it because it only has 3 ingredients (dates, peanuts, sea salt).
With so few ingredients, we quickly found this an easy recipe to make from home. In fact, it's nearly impossible to mess up. A small food processor, dates, and the other ingredients of your choice and you're ready to go.
Almonds, seeds, granola, and oats can be good additions to your homemade Bar. You can also blend in flax seed for more healthful benefits. Since the dates are naturally high in sugar, I tend to steer clear of adding dried fruit or raisins to the mixture. Below are two of our favorite variations.
Homemade Peanut Butter Bar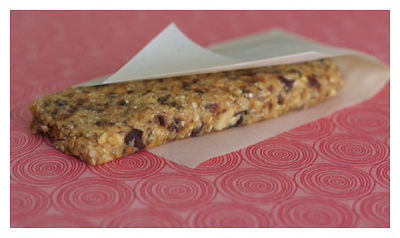 1/2 cup dates
1/2 cup unsalted peanuts
1/2 cup quick oats
1/2 tsp sea salt
2-3 tbsp water
Peanut Granola Bar
½ cup granola
½ cup unsalted peanuts
½ cup Flaxseed (optional)
½ cup Medjool Dates
1 tbsp water
Add all ingredients in the food processor. Pulse for 1 minute, slowly adding water as the mixture forms. Once complete, spread the date mixture on a cutting board and slice into squares. One batch should make 4-6 squares. Serve immediately or wrap in wax paper and store in the refrigerator for 3-5 days.
It's seriously the easiest snack I've ever made. If you want to see the recipe in action, check out this YouTube video where I highlight my Top 4 Essential Gadgets in the Kitchen and feature how to make a homemade granola bar. Enjoy!