Healthy Kids First: What's in the Lunchbox?
By Mandy Curry on August 16, 2014 from Healthy Kids First
It's here! We're back to school and we now have kids' lunches on our minds.
A recent study of kids' lunches found that most of the foods sent to school were pre-packaged salty snack foods and sugary desserts. In fact, almost a quarter of the lunches lacked an entrée, and some even contained up to three sugar-sweetened beverages in their lunchbox.
Pre-packaged lunch options are so tempting, but pre-packaged generally means heavily processed, high in sugar, and/or high in sodium.
Creating a lunch that is quick to assemble, liked by your child, uses minimally processed foods, and keeps your child full throughout the day can be a little tough.
Here are four lunch box ideas that we created to keep school lunch cool and healthy.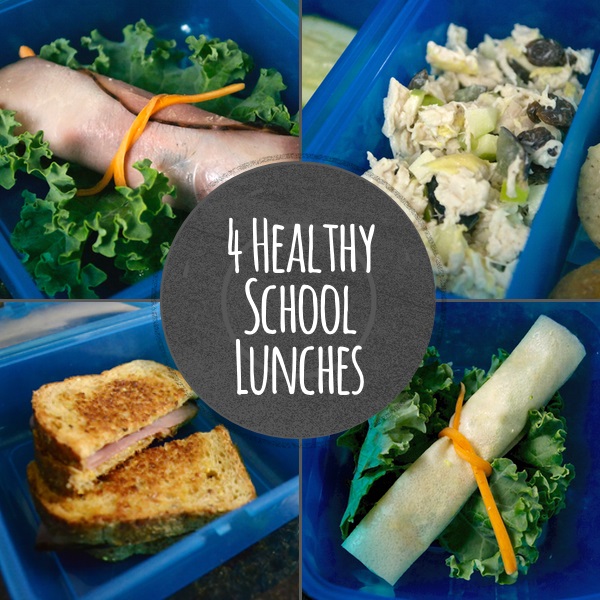 1. Ham & Veggie Roll Up:
We used Boars Head Ham (thick sliced) for this lunch box idea. With a knife or mandolin, make matchsticks vegetables with carrots, cucumbers, and cheese. Roll it up, add some crackers and fruit, and this lunch is in the bag.
2. Grilled Cheese:
Grilled Cheese can actually be healthy with the right ingredients. For this we used Kerrygold Butter (from grass fed cows), Ezekiel Sprouted Grain Bread (found in the freezer section, near the healthy food aisle), Boars Head ham, and organic cheese.
*
Ezekiel Sprouted Grain Bread
is one of the healthiest breads on the market. It's a hearty bread, so it may take your kids a few attempts before they like it. I find toasting it or grilling it for sandwiches are the methods of choice for my kiddos.
3. Veggie Wrap:
This is a lunch favorite. Simply chop carrots, broccoli, and cauliflower. Combine with shredded cheese, ranch dressing, and ½ tsp of chili powder. Wrap in a whole grain tortilla shell or even lettuce cup for those avoiding gluten.
4. Chicken Salad:
Start by poaching your chicken. Once cooled, cut your chicken into small cubes. Mix with 1 tbsp of Mayonnaise (the less, the better), diced apples, celery, raisins or cranberry's, and walnuts (optional). Season with fresh lemon juice, salt and pepper. Serve with crackers.
If you want to see the finished product with each meal, check out this most recent
YouTube video
. You will also see which recipes were a huge hit with my kids and which one had them darting for the trash can. It's all about experimentation. Some work and some don't, but continuing to introduce your kids to new foods is an important step in the journey. Enjoy!