Healthy Kids First: With School Back, How to Make the Most of Your Oats
By Mandy Curry on September 27, 2014 from Healthy Kids First
Now that School is back in full swing, it's time to revisit some new breakfast options. Top on that list is always oatmeal, but not all oatmeal is created equal. In fact, some contain a lot of artificial flavors and loads of sugar.
I tend to have a love/hate relationship with oatmeal. For most of my life I hated it. The mushy texture was just too much. I gave oatmeal another try a few years ago and started to gradually accept the taste and now I really enjoy it. I find that my kids have the same experiences.
In our early days of raising kids (aka- pre Healthy Kids Inc when we ate all processed foods) they liked Brown Sugar & Cinnamon Instant Oatmeal. That was pretty easy. Who wouldn't enjoy a bowl of warm sugar? Gradually we transitioned them to Rolled Oats that we flavored naturally with raw honey and berries. Most recently we have made yet another transition to Steel Cut Oats, which did take a little longer as the texture is considerably different.
So why does the type of oatmeal matter?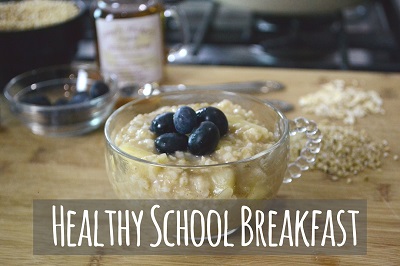 Here is a breakdown of the three options:
Instant Oatmeal is highly processed. The oat groats have been pre-cooked, dehydrated, and usually contain a flavor packet full of other unhealthy ingredients. Steer clear of instant oatmeal if you can. Better varieties exist.
Rolled Oats are less processed as the oat groats are toasted and then ran through rollers to create a flake. Rolled Oats have essentially the same nutritional value as Steel Cut Oats and are a good second choice.
Steel Cut Oats are the least processed of all oat cereal. The toasted oat groats are simply chopped into chunks. These oats are low on the glycemic index and a top pick in terms of minimal processing.
Oatmeal is one of my favorite breakfast foods for kids because it keeps them full a little longer. If you've ever given your kids donuts for breakfast they are generally starving an hour later and will likely want to graze all day long. If they start out with a healthy breakfast, like oatmeal or eggs and meat, this tends to satiate them for a few hours.
Oats are naturally gluten free but could be manufactured in a facility that contains gluten. So if you are gluten intolerant, be sure to select oats that specifically say "Gluten Free" to ensure they are made in a gluten-free facility.
This is one of my favorite recipes for preparing Steel Cut Oats. One trick…prepare your oats the night before.
If you want to see how we pulled this entire dish together, check out this latest video.
Apple Cinnamon Steel Cut Oats
Ingredients:
1 cup Steel Cut Oats
¼ tsp salt
1 apple peeled and diced
1 tbsp vanilla
1 tbsp cinnamon
Fresh Berries of your choice
(any other additions such as: pure maple syrup, coconut sugar, dried fruit, walnuts, etc.)
Directions:
The night before:
Prepare your Steel Cut oats according to package instructions (generally this includes 1 cup oats, 4 cups water, and ¼ tsp salt). Bring 4 cups of water to a rolling boil. Add salt. Then add 1 cup of Oats. Let the oats boil for 1 minute. Turn the heat off, place a lid over the oats and let them sit overnight on the stove.
Breakfast morning:
Remove the lid from the oatmeal.
Add diced apples, cinnamon, and vanilla. Heat over low to medium heat for 5-7 minutes or until apples soften.
Once oatmeal is heated and apples are soft, spoon into a bowl and top with berries of your choice.
Store any leftovers in the refrigerator for the following morning. If your oatmeal is too thick the next day, heat it up on the stove with a little almond milk or water to create a creamy cereal. Your leftovers will store in the refrigerator for 2-3 days.
Enjoy!