STRONG IDEA: In it for the Long Haul
By Emily Stapleton on November 13, 2013 from Strong Ideas
Two days ago I completed the Huntington Marathon. Eleven years ago I completed my first marathon in Pittsburgh. A marathon is a long haul…26.2 miles of putting one foot in front of the other. In between those two events, I've become a mother (three times), completed four other marathons, and basically just lived life. If you're a parent or a runner (or both, like me), you can appreciate that much has changed from May of 2002 to November of 2013…but much has remained the same.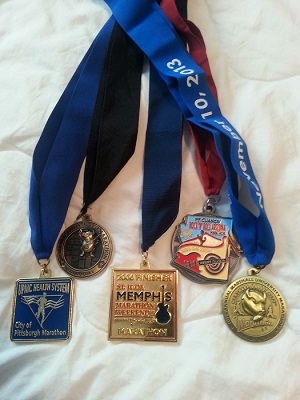 ---
May 2002 - Pittsburgh Marathon
May 2003 - Flying Pig Marathon
September 2004 - Baby 1 born
January 2006 - P.F. Chang's Rock and Roll Marathon
December 2006 - St. Jude's Marathon
June 2008 - Baby 2 born
October 2009 - Baby 3 born
November 2013 - Marshall University Marathon
---
The sport of distance running has changed immensely over the last decade. As I ran in Huntington on Sunday, many runners exchanged information about their GPS data and I heard many apps giving verbal feedback about pace and distance. Most of that technology simply wasn't available when I ran in Pittsburgh 11 years ago. Theories of training have changed over the past decade. Shoe manufacturers have changed the way our most basic piece of equipment is constructed. The half marathon has boomed in popularity (I hadn't heard of a half marathon in 2002) and information on training and events has become more accessible through the Internet. We no longer have to wait for the latest issue of Runners' World Magazine to come in the mail…though I still read mine cover to cover.
While running on Sunday, I observed many of these changes and pondered our ever-changing world. But this blog post is not really about the changes to the sport of running. It's not about how much faster or slower I can complete a marathon a decade later. It's not even really about marathoning or even running. This post is about life and the phases we go through; about the phases of my own life. It's about the changes and the consistencies of life and how we choose to embrace them. The marathon is just the metaphor.
Here's a quick comparison of my marathon preparation for my first two marathons (pre-children) and my most recent marathon (mother of 3).
In 2002 and 2004, while I did work full time, I had lots of time available to run…so I did just that. I sometimes logged 60 miles per week running 5 or 6 days per week.
In 2013, my time is more limited. During my training, I worked up to 35 miles in my peak week and never ran more than 3 days per week.
In 2002, I did things like take an ice bath after my long runs.
In 2013, I did things like take the kids to the pumpkin patch after my long runs.
In 2002, many of the miles I ran were "junk" miles. In other words, I was just out hitting the pavement to get the miles in. I was focused on running; it took over most aspects of my life.
In 2013, none of my training miles were "junk" miles. Each workout had a specific goal: a long run, a speed session, and a run/strength workout. I didn't have time to let running take over my life, so I wasn't as focused on my training. Instead, my training was extremely focused.
In 2002, I lived my life for myself.
In 2013, I live my life to set an example for my children. I loved having them see me complete the marathon. I also loved them being witness to the hard work and dedication it takes to prepare…but still stay focused on the rest of life's responsibilities.
In 2002, I had the complete support of my husband, which meant he was my biggest cheerleader and my support crew. He drove me to the start of the race and cheered as I crossed the start line. He met me at several points throughout the race and delivered water and food as I wanted them. He met me at the finish line with flip-flops and a change of clothes.
In 2013, I had the complete support of my husband. No longer can he deliver me to the start line or deliver flip-flops to the finish; he's needed for a much more important job. This time I headed to the start line in the wee hours of the morning on my own, leaving him behind to wake, dress and feed our three kids; then bring them to several points on the course for the much needed high fives. This time, at the finish line, he brought with him three additional cheerleaders…and that's so much better than flip-flops.
As I ran on Sunday, I thought not only about our changing world, but also about the fact that some things never change. Many aspects of the sport of distance running have remained consistent over the last decade. The running community remains a strong, inclusive group. The field continues to host multiple generations…I chatted with a 17 year old and a 65 year old on Sunday and the oldest woman to complete the New York City Marathon recently passed away at the age of 86. And, no matter how complicated our technology and our shoes get, running is still just putting one foot in front of the other. And that simplicity will never change.
My life, while in a completely different phase now than in 2002, also hosts several consistencies. Through it all, I have continued to run. I have continued to support and receive support from my husband. And through the long haul, I have continued to wake up everyday and choose how to live my life, how to set priorities. And that simplicity will never change.
Now the question is; where will I be in 2023? 2033? 2043? What will change? What will remain consistent? Where will you be?
Until Next Week,
Emily Stapleton