STRONG IDEA: Mountaintop Exercise; Take Your Vacation to the Next Level
By Emily Stapleton on July 15, 2013 from Strong Ideas
I'm writing from the 3rd floor balcony of the beautiful Tree Tops Resort at the foot of the Great Smoky Mountains. I'm listening to a rushing mountain stream and sipping refreshing water. I'm fresh off an exhilarating run on a hilly mountain path. I'll be spending the week here with my husband and three kids. Most of our time will be spent hiking, swimming, picnicking, shopping, seeing shows, and of course riding go carts in Pigeon Forge…but a small fraction of my time will be spent running, stretching, performing strength work, and just breathing. How do you exercise on your vacation?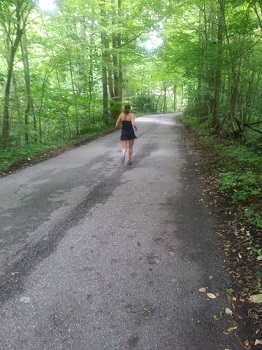 You may be thinking that vacation's a time to relax and take a break from the everyday, including exercise…but I'm guessing that if you've read this far, you're at least willing to give the idea of vacation exercise a chance. Here are my top 10 tips on making exercise a part of your vacation:

1. Exercise to chillax. If one of your goals for your vacation week is to relax and leave behind the stress of the everyday, try incorporating running, walking, biking, or any other type of movement into your vacation schedule. I guarantee you'll feel more chillaxed.

2. Keep working toward your fitness goals. If you're currently following a plan or taking a class, don't stop just because you're on vacation. You don't have to keep up the same level of intensity or consistency while you're away, but if you exercise at least a little, you'll be more likely to jump right back in when you get home.

3. Negate added calories. Let me be clear – I have no plans to try to lose weight or watch what I eat while on vacation. This is not a post about dieting on vacation (I'm sure someone else has written that, but I don't have a link, 'cause I'm not reading it). Part of the fun of vacation includes meals in terrific restaurants (even if they have to be family friendly), sweet treats, and maybe a few cocktails. Vacation exercise can help keep your metabolism kicking and burn a few added calories. So, lose the guilt and enjoy the treats!

4. Try something new. If you aren't up for performing your regular exercise, try something new (don't have a regular exercise? Keep reading, number 7 is for you). If you're a gym rat who loves to lift weights, try going for a run in the mountains or on the beach. If you usually run, consider renting a bike or swimming laps in the resort pool. You never know, you may have a new regular by the end of the week.

5. Try something old. Is there an activity you loved as a kid or teenager, but haven't done in a while? Vacation is the perfect time to revisit.

6. Try something familiar. Vacation exercise doesn't have to take too much thought. Do what you know. For me, that's running, stretching, and bodyweight strength exercises. Today I just ran. Tomorrow, I hope to incorporate some planks, squats, and maybe even some burpees. It's what I know. It what comes natural to me.

7. Start the journey toward your fitness goals. Most people have something they'd like change about their health, fitness level, or body. Maybe it's to lose weight, maybe it's to run a marathon. Whatever it is, vacation is the perfect time to get started. Go for a walk, take a run…take your first step.

8. Exercise with no goals. If you're already working toward your goals, vacation might be the time to forget about those goals and just move. Leave the watch and GPS at the hotel, don't plan you're route, just move for the sake of moving.

9. Include the family. Depending on the ages of your kids, figure out what type of movement you can enjoy together. We'll be doing some family hiking this week.

10. Take a vacation from your vacation. Let's face it; vacation with kids is hectic. Exercise can be a great way to take a break from the chaos. I'm fortunate enough to have my parents with us for a few days, so this morning I ran with my husband (a rare event for parents of young kids). The rest of my alone time exercise will have to be negotiated (my husband will want his time as well). Whether I get up early or send the fam to the pool without me, I plan to make it happen.
Speaking of the chaos, my kids will be coming back from the pool any minute, so I better wrap this up. While sunbathing and restaurant hopping are great vacation activities, a little movement can take your vacation to the next level.
After today's run, I think I'm in for a lot of hill work this week. So come back next week for my take on hill running – benefits, strategy, etc.
Until Next Week,
Emily Stapleton