Student Perspective: Join in the Cause for Operation Christmas Child
By Leah Stutler on November 15, 2013 from Student Perspective
When I was younger, I used to wake up bright and early on Christmas morning, wanting to know what Santa brought me. I remember I would wake my parents up before the sun was up, and we spent hours opening up present after present
It hadn't even come across my mind that there are people in this world that don't have the same luck as me, as well as many other young people and even adults.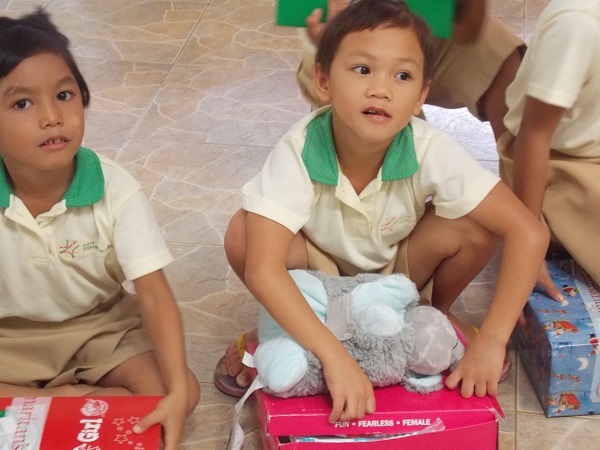 Now, imagine a child receiving a box. It's not just any box. It's a box filled with love. To the average person, this box may only be filled with a toothbrush, a coloring book, crayons, and a few more items, but to the child receiving that box, it means the world to them. This is with the help of Operation Christmas Child.
I hadn't even heard about OCC until I entered high school and joined the club, Fellowship of Christian Athletes, which is run by BHS girls' basketball coach, Dave Marshall.
"It's great helping others that don't have much, and with Operation Christmas Child, people in our community can help out with this. It brightens someone's day. And it brings the word and the news of all the good Jesus Christ has in this world," Marshall said.
Fellowship of Christian Athletes spent lunch one day putting together many boxes, as well as giving many other boxes to students so they could fill them at home.
A couple of years ago, we filled and donated 250 boxes. That is the most we have filled so far, but we are hoping to go for more this year.
This is where you come in!
If you would like to participate in Operation Christmas Child, but aren't part of an organization that participates, you are more than welcome to bring it to the office at Bridgeport High School and tell the secretary it is for Mr. Marshall.
Some things that are not allowed are the obvious: Toy guns, knives, food, vitamins, drinks, glass, etc.
For an example, last year, I filled my box with a coloring book, crayons, socks, a hat, and a couple toys. You can pick the age you want to send the present to and just write it on the present. The age ranges for the girls and boys are 2-4, 5-9, and 10-14 years old.
Our organization's deadline for Operation Christmas Child is Wed., Nov. 20, 2013.
Learn more about Operation Christmas Child, a project of Samaritan's Purse HERE.
Read about Deborah Morris, a 2013 BHS graduate, who recently took part in a distribution trip in the Philippines HERE. Above photo was taken by Morris on that trip.